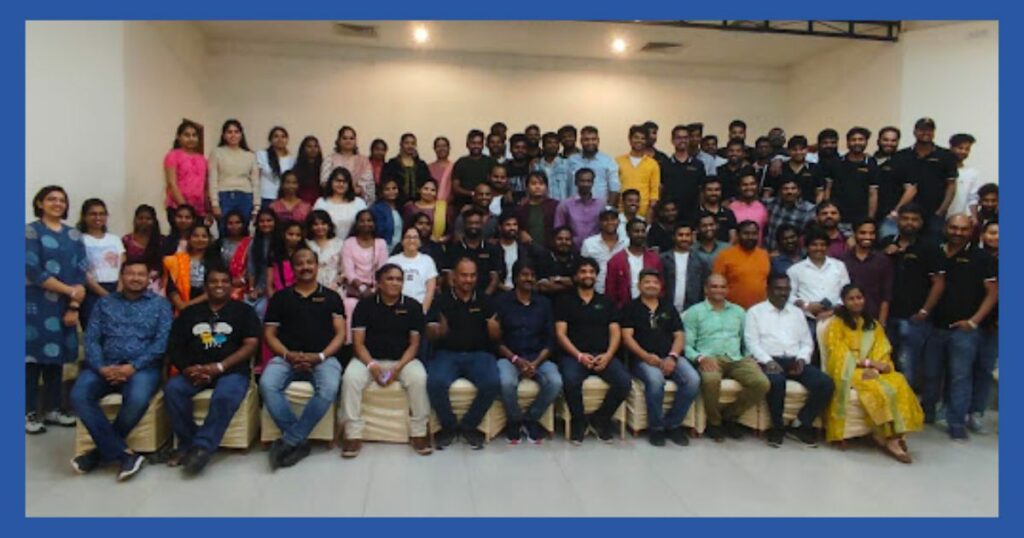 Today Marvel Geospatial celebrates its 15th business anniversary.
Successfully reaching this milestone is indeed a gratifying validation of the vision and mission that started It all.
It was on this day in 2008 that Raghavendra (Raghu) Boyapally, our Founder and Chief Executive Officer, embarked on a journey to make a meaningful impact in the geospatial industry, fueled by his passions for geospatial technology and stimulating the employment environment.
It started as a small step with a few clients, growing to serve some of the most important organizations in India, and serving our stakeholders across three continents. Beginning with a team of 4 to now a 125+ strong team, we feel proud of our journey and our ability to evolve.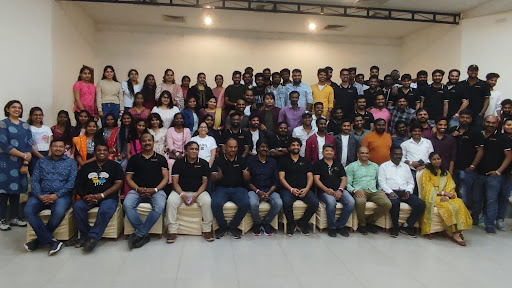 Our team now
Keeping pace with the transformation
Over these years, our industry has evolved significantly, and we have kept a close pace.
Geospatial technology is a beautiful tool to manage the world around us and process its immensity through actionable information. The fast advances in the technology landscape are making it a truly transformative tool for the connected world and solving real-world problems.
These dynamics keep us excited, motivated and give greater leverage to our purpose of serving the nation builders with the power of high-quality geospatial information. From the nascent-stage geospatial data capture and processing to AI, IOT-powered analytics and more, our industry has come a long way.
We have been continually diversifying by taking up all the new opportunities without leaving anything behind, be it drones, anti-drone systems, image analytics, BIM, digital Twins, IOT (Internet of Things), AI (Artificial Intelligence), and ML (machine learning). We are well preparing ourselves to best serve our customers with the new technologies.
A fresh new brand identity
On this occasion, we have also unveiled our refreshed brand identity. Our new identity reflects our transformation as an organization and our evolving priorities, while retaining our core beliefs.
Our new logo reflects 'us' at this important juncture – bold standpoint, better offerings, bigger markets, and a more vibrant outlook in sync with the vibrant, exciting dynamics of the technology.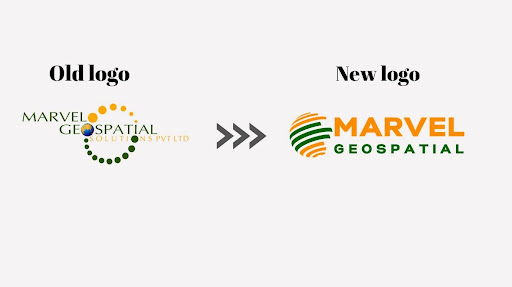 The carefully chosen colors of the new logo reflect our spirit and mindspace. The warm color orange reflects a sense of energy, enthusiasm, playfulness, excitement, friendliness, and a higher visibility.
The green color conveys a sense of growth, prosperity, and health. It is associated with nature and the environment, evoking a feeling of tranquility, growth, and freshness. It also conveys financial stability and prosperity, reflecting a sense of stability and reliability.
Interactive engagement
What's more? Going ahead, we are evolving our platforms for more interactive engagement and more useful resources. Our revamped website reflects our rebranding, while providing visitors with all the information about our solutions and other important details in a clean, beautiful, and organized way. We will also be sharing more content on technology based on our experiences, which we hope will aid in better tech adoption. And we are making it much easier to reach out to us for any queries. Always happy to help!
Through all these changes, what remains constant is our commitment to quality services and dedicated customer relationships. And always finding ways to notch them up a bit.
Much appreciation and gratitude for the industry, our customers, our partners, our mentors, our team members past and present, all our associates, stakeholders, and well-wishers – a big thank you to all of you for having made this journey possible so far.
We are excited about the future and have well-braced ourselves for all the opportunities and challenges it brings. Hope you all continue to be with us on this journey.