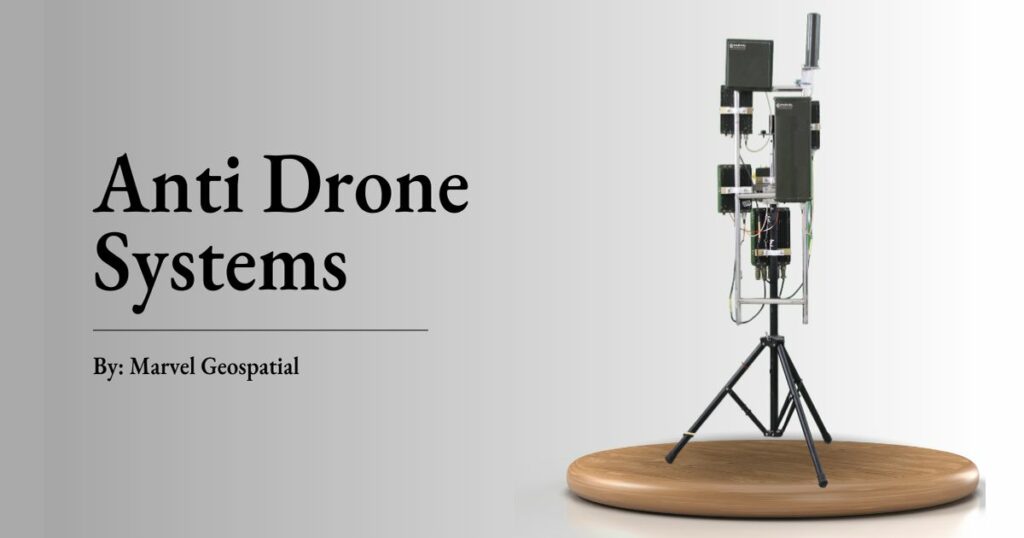 How our anti-drone system works: Marvel Geospatial's anti-drone system explained  
Growing concerns about the increasing use of hostile drones have made anti-drone systems essential for national safety and security. Drones have been employed for various illegal activities such as drug and arms smuggling, disrupting political events, and posing potential threats to security and safety. There have been sightings of drones in other high-security areas, which require effective measures to protect the land and people.
In this blog, we look at the cutting-edge anti-drone system presented by Marvel Geospatial that can detect and disable unauthorized drones in sensitive areas, and how it works.  
About the anti-drone system
Marvel Geospatial's anti drone system is indigenously produced – it is Made in India, in commitment to the Atmanirbhar India vision of the Government of India. The entire system weighs less than 35 kg, and can be deployed within 45 minutes with a one-day training. 
The system works on the principle of radio frequency jamming and GPS jamming. It can operate without any additional cooling systems. The system can be deployed in all field conditions and is well equipped to operate in weathers ranging from minus 10 to plus 50 degrees. 
How does the anti-drone system work?
The anti-drone system employs radio frequency and GPS jamming techniques to disrupt the communication between a rogue drone and its operator. The system can be easily integrated with existing perimeter security measures like CCTV, thermal and vibration sensors.
Once the system is fully assembled and connected to power supply through either a battery connection, commercial power supply or a captive from the generator supply, it switches on the RF signal scanning is activated. 
In case of the presence if any drone within the range of this particular anti drone system, the sensor will sense the activity and will immediately start jamming / neutralizing – GPS as well as a radio frequency band simultaneously. A beep from the system in case of any intrusion alerts the sentries/soldiers on guard. The system from Marvel Geospatial also has a provision of a custom configuration where the signal can be received in the control room and any particular alert can be generated in the command control. The system can also be configured on Ethernet.
In this video, Wg Cdr S. Vijay (Retd), Vice President (Operations), Marvel Geospatial Systems, explains what the anti-drone system is, and how it works